SFR US Majors/Restricted Regional Thunderhill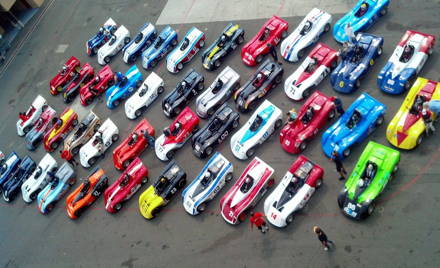 SCCA - San Francisco Region - Club Racing
Friday, Mar 19 — Sunday, Mar 21, 2021
Thunderhill Raceway Park
,
Willows

,

CA
Registration closed March 16, 2021 12:00 PM at 2021-03-16T12:00:00-0700 Registration ends March 16, 2021 12:00 PM at 2021-03-16T12:00:00-0700 Registration opens February 23, 2021 1:00 PM at 2021-02-23T13:00:00-0800 Registration runs from February 23, 2021 1:00 PM to March 16, 2021 12:00 PM
Weathertech Raceway Laguna Seca Majors

Regional 7 & 8

San Francisco Region

US Majors Tour

and Restricted Regional

Thunderhill Raceway Park

March 19-21 2021

Schedule Updated 3/7/2021 2021 Thunderhill Majors 3-19-21 2021 ver 3-7-2021 FINAL with sanction number.pdf

Major Supplementary Regulations 2021 US Majors Mar 19-21 Thunderhill Supps rev 3-1-21 3 pm.pdf

For all race groups: Starting positions for the Saturday Sprint race will be determined by the fastest time recorded for each car during the qualifying sessions.

For all race groups: Starting positions for the Sunday Feature race will be determined by the fastest time recorded during the qualifying sessions and the Saturday Sprint race.

PARTICIPATION AND POINTS: Drivers can earn both Major and Regional points; the same points system (25, 21, 18, etc.) is used for both.

If the class is a Majors class, they can earn Major points/participation and Regional points if they are a SF Region drivers
If the class is a Regional only class, SF Region drivers earn Regional points.
The Regional portion of the event is not a Regional Qualifying event and therefore is not part of the "divisional path" to the Runoffs.
PLEASE REFER TO SUPP LINK ABOVE FOR POINTS ALLOCATIONS

Major Run Groups 1-7 require a Full Competition or Pro License. Novice permits will not be accepted.

GROUP 8 IS REGIONAL ONLY AND WILL ACCEPT NOVICE LICENSES

Paddock for the weekend will open Thursday, March 18 at 5:00 p.m.. .

Online entry closes Tuesday March 16th at Noon; after that you will need to enter at the track.

Enter now, pay later! SFR will charge your credit card AFTER the race weekend. Yes, we are taking advantage of the improved Deferred Payment Option offered by MotorsportReg. When you register, you enter your credit card information; after the race weekend, we actually process the card.

To withdraw without penalty, notify the Region Office by Wednesday, March 17 2021

If you have questions about the event, please contact the SF Region Office: 888-995-7222 or office@sfrscca.org
Your group, class, and car number will be listed on the Entry List on MotorsportReg. The list is always current (find it by going to the Announcement page on http://sfrscca.motorsportreg.com/ and clicking on "Current Registration List" in the upper right.
Car numbers will not be official until Friday afternoon, March 12
Entry Fees:
Majors Full weekend $515
Dual Regional $515
One Regional $375
Dual (extra class, same driver, all or part of weekend) Regional: $225 / Major $300
GROUP 8 Only $375 (Novices may enter Group 8)
Groups
*Starting positions for the Saturday race will be determined by the fastest time recorded for each car from the preceding qualifying sessions
*Grid Position for Race 2 is set by the fastest time in the 3 prior sessions Novice
Group 1

GT1, GT2, GT3, GTX, AS, T1, T3, PX, *ITE,

*SP, *SMG, *SSC5,*MC, T2

Group 5

SRF3, *SRF

Group 2

B-Spec, STL, STU, T4, FP, HP, EP, GT, *ITS,

*ITA, *ITB, *ITC,*ITX, *ITR, GTL, *E30,

*SM5

Group 6

SM, *SSM, *SMT

Group 3

*F500, FF, FV, *FFT, *FST, *CF

Group 7

FC, *FE, FE2, P1, P2, *S2, *DSR, *ASR, FX

Group 4

FA, FX, *FM

Group 8

STU, STL, SRF, SRF3, SSM, SMT,

SM,SMG,E30,ITA, ITX, ITB, ITC, MC, SSC5

Group 8 is Regional Only

GROUP 8 WILL ALLOW NOVICES

SOUND IS 103 db

AS WELL AS FULL COMP DRIVERS
*Classes with an asterisk are Regional only, not Runoffs eligible
If you do not already have a MotorsportReg account, please follow the steps below to create your account this first time. Next time you enter, just log into your account and future entries for SFR events will be quick and painless!
If you do not already have one, create an account on MotorsportReg.com after reading these steps.
Once logged in, click "My Account" in the top right
Review your vehicle(s), making sure to enter your permanent/preferred numbers and your transponder number
Enter your medical information for the Ambulance/Life Support crew.
Now come back to this page and enter the event and pay online.